Top 7 Stunning Shower Enclosure Styles to Consider
The bathroom, once seen as a purely functional space, has now become a canvas for creative expression. Design fans are constantly searching for innovative and stylish shower enclosure ideas. Many options are available as we step away from conventional designs, enabling homeowners to blend functionality with aesthetic appeal.
Now, explore the seven most stunning shower enclosure styles reshaping contemporary bathrooms.
Frameless Glass Enclosures: The Modern Minimalist's Dream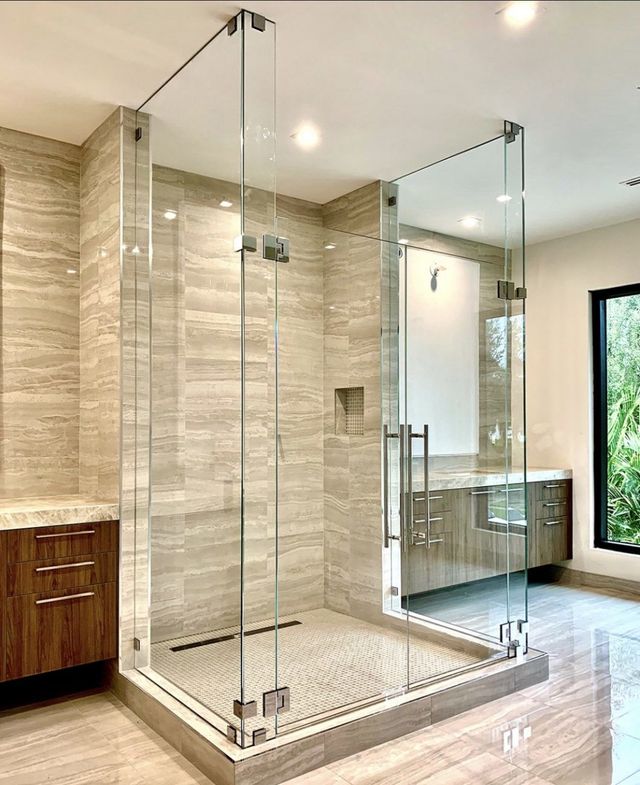 When creating a luxurious bathroom experience, frameless glass enclosures quickly take the top spot. With their seamless and spacious design, these enclosures provide a truly open and inviting feel. Without the clutter of frames, they offer an unobstructed view, allowing you to showcase every intricate detail of your beautiful tilework or other design elements.
The sleek and modern aesthetic of frameless glass enclosures is perfect for those who desire a minimalist bathroom ambiance that exudes sophistication and style. Transform your bathroom into a sanctuary of elegance with these stunning additions.
Black Framed Enclosures: Bold and Edgy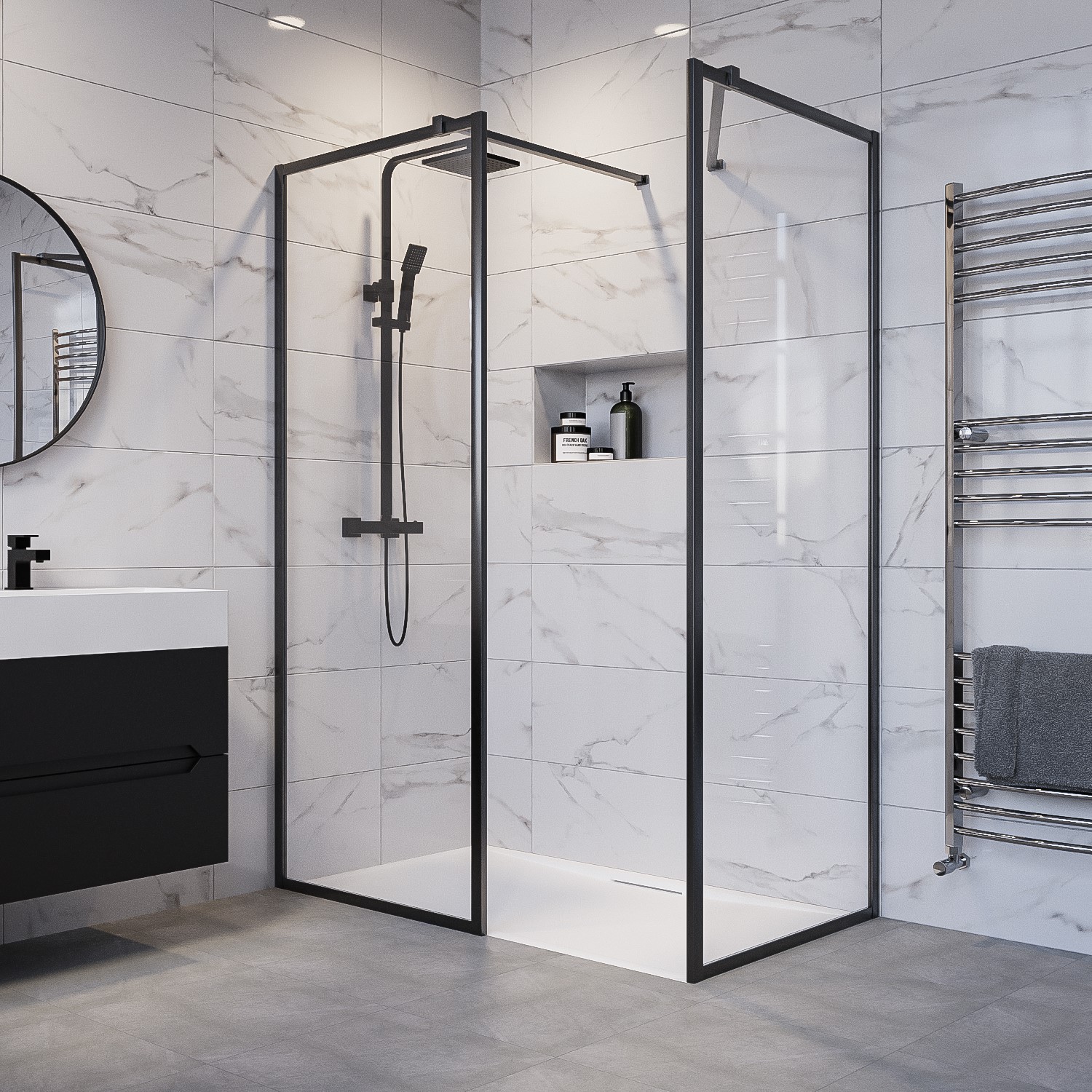 In recent years, a rising trend in bathroom design has been using black framed shower enclosures. These sleek and sophisticated fixtures add a touch of elegance to any bathroom and create a striking contrast in lighter-toned spaces. The black frames offer structure and definition, giving the bathroom a modern and polished look.
Suppose you prefer a thin, subtle black frame for a minimalist aesthetic or a more pronounced one for a bold statement. In that case, black framed shower enclosures are a versatile choice that can elevate the overall design of your bathroom.
Sliding Door Enclosures: Space-Saving Elegance
For those with limited space constraints, sliding door enclosures offer an ideal space-saving solution. They are perfect for tighter spaces such as small apartments or compact rooms by eliminating the need for a swing-out door. Not only do they maximize the available area, but with the right choice of high-quality glass and stylish hardware, sliding door enclosures can add elegance and modernity to any interior design.
Their sleek and seamless design enhances functionality and creates a visually appealing aesthetic that blends seamlessly with any decor style. So, whether you're looking to optimize space or add a touch of sophistication, sliding door enclosures are a practical and stylish choice for any home or office setting.
Bi-fold Shower Doors: Compact and Functional
Another ingenious solution for smaller bathrooms is the bi-fold shower door. These doors are designed with panels that fold neatly into the shower space, allowing easy access without taking up any extra room. With their clever design, they not only save space but also add a touch of style to your bathroom.
Available in various finishes, you can choose a bi-fold shower door that perfectly complements your bathroom decor. Do you prefer a sleek and modern look? Or perhaps a more traditional design? No matter what, there's a bi-fold shower door that's as stylish as it is functional, making it the perfect choice for your compact bathroom.
Tinted Glass Enclosures: A Touch of Mystery
Tinted glass enclosures are the perfect choice for those seeking more privacy and a unique aesthetic. These stylish enclosures are available in shades like smoky gray, bronze, and even black, allowing you to create a bathroom with an air of mystery and luxury. With their sleek and modern design, tinted glass enclosures add visual appeal and provide a sense of tranquility and seclusion.
From creating a spa-like oasis to adding a touch of elegance to your bathroom, these enclosures will elevate the overall ambiance and make a statement. Transform your bathroom into a private sanctuary and indulge in the ultimate relaxation experience with tinted glass enclosures.
Curved Glass Enclosures: Smooth and Chic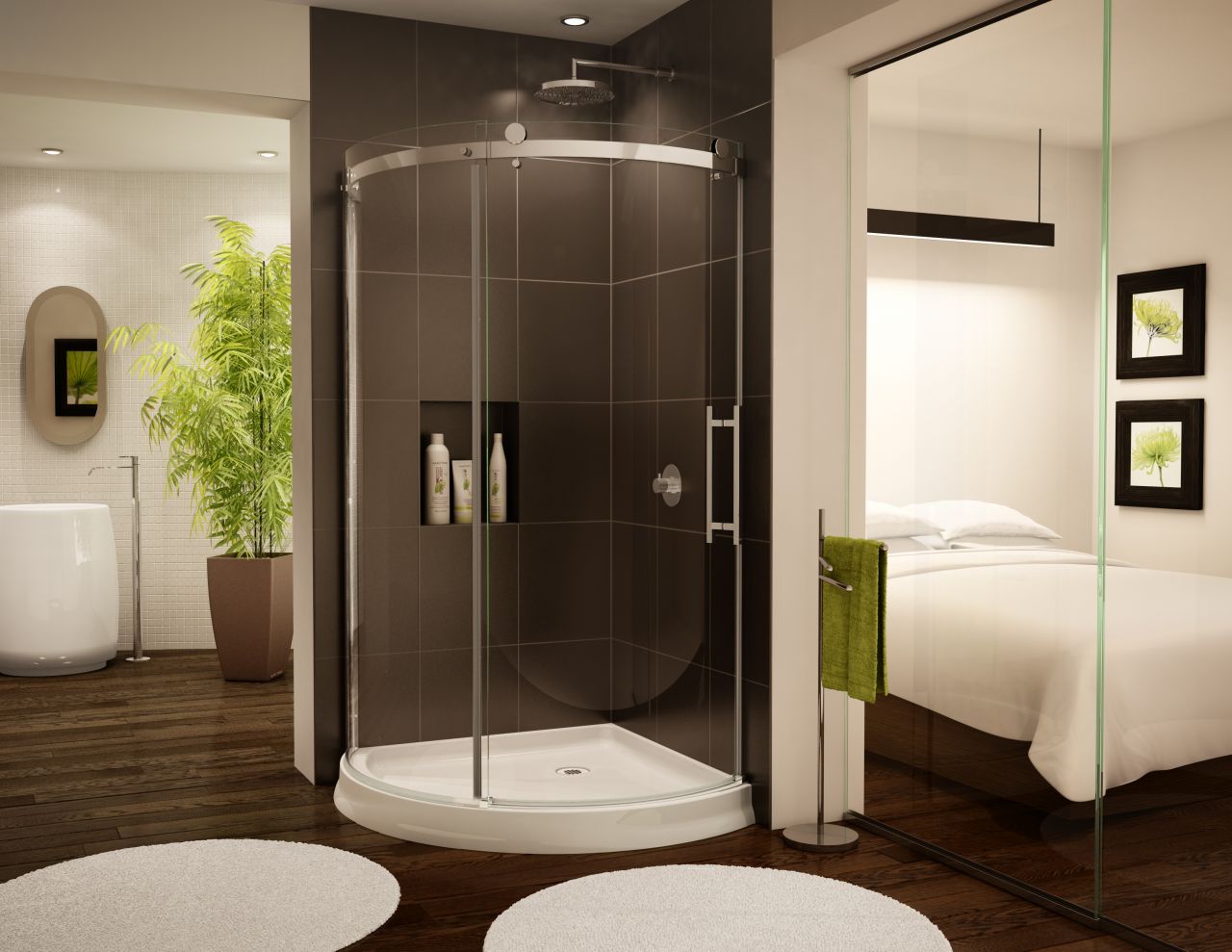 Curved glass enclosures are aesthetically pleasing and serve a functional purpose in bathroom spaces. Adding a soft, rounded touch, they effortlessly break the monotony of straight lines and bring a sense of organic flow to the design. Specifically designed for corner showers, these enclosures maximize the available space and create an illusion of a larger area, making your bathroom feel more spacious and inviting.
Embrace the unique design that twists curved glass enclosures offer and transform your bathroom into a stylish and visually captivating sanctuary.
Industrial-Style Enclosures: Vintage Meets Contemporary
Featuring sturdy frames and often a grid pattern reminiscent of 20th-century factories, industrial-style enclosures bring a touch of vintage charm that transports you to a bygone era. Paired with modern fixtures and clean lines, they create a harmonious blend of old-world ruggedness and contemporary sleekness, perfect for those seeking a unique juxtaposition of styles.
This distinctive combination adds character and personality to any space, making it a captivating focal point that sparks conversations and leaves a lasting impression.
Final Thoughts: Try One of These Stunning Shower Enclosure Styles
If you're looking for inspiration, especially for compact spaces, this walk-in shower ideas guide for small bathrooms is an excellent starting point.
The bathroom is not just a utility space; it's a testament to personal style and preference. The right shower enclosure can transform the look and feel of the entire room. Whether you're a lover of the classics or a seeker of the avant-garde, there's an enclosure style out there waiting to redefine your bathroom. So, dive into these styles, let inspiration strike, and craft a truly your space.
Need a little help bringing your ideas to life? Coastal Closets and Showers in Stuart, FL, is the place to go. From custom glass enclosures to shower doors, they offer various options for all your bathroom needs.